"STEVIE WONDER: SONGS IN THE KEY OF LIFE — AN ALL-STAR GRAMMY SALUTE" TO BE BROADCAST FEB. 16th, 2015, ON CBS
Two-Hour Entertainment Event to Feature Some of the Biggest Names in Music Today Performing Iconic Songs by the 25-Time GRAMMY® Winner
The Recording Academy®, AEG Ehrlich Ventures and CBS will present "Stevie Wonder: Songs In The Key Of Life — An All-Star GRAMMY® Salute," a primetime entertainment special that will celebrate the iconic songbook and remarkable legacy of the 25-time GRAMMY winner.
The two-hour show will tape at the Nokia Theatre L.A. LIVE on Tuesday, Feb. 10, 2015, two days after the 57th Annual GRAMMY Awards®, and will be broadcast in HDTV and 5.1 surround sound on the CBS Television Network on Monday, Feb. 16, 2015, from 9 – 11 p.m. ET/PT. For updates and breaking news, please visit GRAMMY.com, and The Recording Academy's social networks on Twitter, Facebook and Instagram. Performers and presenters will be announced shortly.
In the 56-year history of the GRAMMY Awards, Wonder is the only artist to have received Album Of The Year honors in three out of four consecutive years with Innervisions, Fulfillingness' First Finale, and the seminal Songs In The Key Of Life. With a catalog that is one of the richest treasure troves in American music, his songs are still revered and influential today and his longevity as one of America's — and the world's — most respected and beloved artists is well earned. "Stevie Wonder: Songs In The Key Of Life — An All-Star GRAMMY Salute" will feature some of today's top artists covering songs by the legendary GRAMMY winner, as well as other archival material. In addition, various presenters will help highlight the historical impact of Wonder's songs on music and our culture.
"Stevie Wonder is a beloved icon whose golden songbook remains one of America's and music's greatest treasures," said Neil Portnow, President/CEO of The Recording Academy. "A 25-time GRAMMY winner and Recording Academy Lifetime Achievement Award recipient, it's only fitting that Music's Biggest Night® celebrates this legendary musical genius and pays tribute to his enduring music and legacy."
"Some of my most memorable television experiences have been with my friend Stevie, both on the GRAMMYs and off, and to be able to celebrate him in a way that only the GRAMMY stage allows is a treat that I've looked forward to for a long time," said executive producer Ken Ehrlich of AEG Ehrlich Ventures. "He is truly deserving of the term that is often used about him — an American treasure — and the night of Feb. 10 when we tape this show is going to be an amazing time."
"Stevie Wonder epitomizes the very spirit of the GRAMMYs," said Jack Sussman, Executive Vice President, Specials, Music and Live Events, CBS Entertainment. "His music is as poignant as it is appealing and his songs have the ability to illustrate our world in every note. We are thrilled to pay tribute to this legendary man and musician. His influence is present in so much of today's greatest music. This salute will give everyone he's inspired a chance to show our esteem."
"Stevie Wonder: Songs In The Key Of Life — An All-Star GRAMMY Salute" continues the tradition begun this past year with "The Beatles: The Night That Changed America — A GRAMMY Salute," a two-and-a-half-hour special that celebrated the remarkable legacy of the seven-time GRAMMY-winning group. Hailed by media and fans alike as a unique and memorable event in music television, the Beatles special ultimately garnered 20 million viewers and an Emmy Award for Outstanding Music Direction (for Music Director Don Was).
Tickets to the taping of this very special evening will go on sale Thursday, Dec. 18th, on AXS.com. Call 877.234.8425 or email tickets@aegworldwide.com for more information on ticket availability including VIP ticket packages and group sales.
"Stevie Wonder: Songs In The Key Of Life — An All-Star GRAMMY Salute" is produced by AEG Ehrlich Ventures, LLC. Ken Ehrlich is the executive producer.
2015 GRAMMY SALUTE STEVIE WONDER
===========================================================
ARTIST LAURENCE GARTEL CREATES OFFICIAL ARTWORK
FOR THE 57TH ANNUAL GRAMMY AWARDS®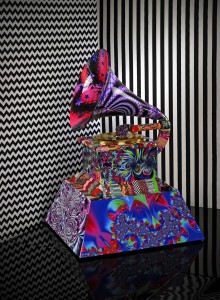 The Recording Academy® is pleased to announce the selection of artist Laurence Gartel to create the official artwork for the 57th Annual GRAMMY Awards®. The striking work features a life-sized version of the iconic GRAMMY® statuette wrapped in the distinctive psychedelic imagery of the artist using vinyl, glitter and prismatic materials. The piece will be used to create the official artwork for Music's Biggest Night® and will grace the cover of the GRAMMY Awards program book, telecast tickets, poster, and other promotional materials.
The music industry's premier event will take place live on Sunday, Feb. 8th, at STAPLES Center in Los Angeles and will be broadcast in high-definition TV and 5.1 surround sound on the CBS Television Network from 8-11:30 p.m. (ET/PT). The show also will be supported on radio worldwide via Westwood One, and covered online at GRAMMY.com and CBS.com, and on YouTube. For GRAMMY coverage, updates and breaking news, please visit The Recording Academy's social networks on Twitter and Facebook.
Gartel has been known around the world as a pioneer of digital art. His innovative and colorful imagery has championed many notable advertising campaigns over the past 35 years. He grew up in New York City, where he was greatly influenced by the punk rock scene, working alongside musicians Stiv Bators, Sid Vicious, Wendy O. Williams and the Ramones.
His groundbreaking work has been exhibited in the United States at the Museum of Modern Art, Princeton University Art Museum, and Long Beach Museum of Art, as well as internationally in the permanent collections of the Smithsonian Institution's National Museum of American History, Bibliothèque nationale de France, and Victoria and Albert Museum in London. Gartel has spent the last several years creating art cars and was the feature of the 113th Annual New York International Auto Show with his own Pavilion. To see more of the artist's work, visit www.gartelart.com.
Gartel joins a growing list of talented artists, including Shepard Fairey, Charles Fazzino, Frank Gehry, Marcus Glenn, Phil Hansen and David LaChapelle, who have all created the annual official GRAMMY artwork.