First of three line-up announcements including artists and speakers to participate at the 11th annual A3C Festival & Conference. The internationally recognized five-day festival and conference will feature hip-hop icons: De La Soul, Rakim, Cam'ron, Dame Dash, Just Blaze, Curren$y & Jet Life, Jean Grae, Cyhi the Prynce Pharoahe Monch, Soulection Executive Team, Kool Keith, PNB Rock & The Difference Machine.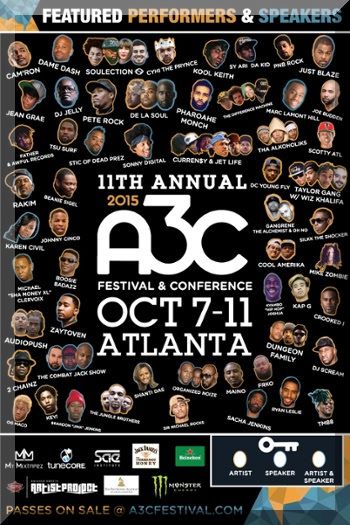 We are really excited about our third and final artist and speaker announcement featuring: 2 Chainz, Boosie BadAzz, Ryan leslie, Shanti Das, Maino, Dungeon Family (Big Gipp, Cool Breeze, Backbone), DJ Scream, Coach K, Crooked I, Kyambo "Hip-Hop" Joshua, OG Maco, Key!, Sacha Jenkins, FRKO, Sir Michael Rocks, Zaytoven, Kenny Burns, TM88, Brandon "Jinx" Jenkins, Organized Noize (Ray Murray, Rico Wade & Sleepy Brown), Kap G, Young Dolph, Travis Porter, Cap 1, Short Dawg and Skooly.
Billboard Magazine Exclusive: http://www.billboard.com/articles/columns/the-juice/6699676/wiz-khalifa-2-chainz-de-la-soul-2015-a3c-festival-lineup
Check out the A3C Line-Up of Artists & Speaker: http://www.a3cfestival.com/lineup/#/lineup
Explore the A3C Schedule of Shows, Events, Panel, Mixers and More: http://www.a3cfestival.com/schedule/#/schedule
There are NOW a limited number of Single Day All-Access A3C Passes on sale! Single Days passes will sell out, so if you know you can only make 1 day… you might want to scoop those.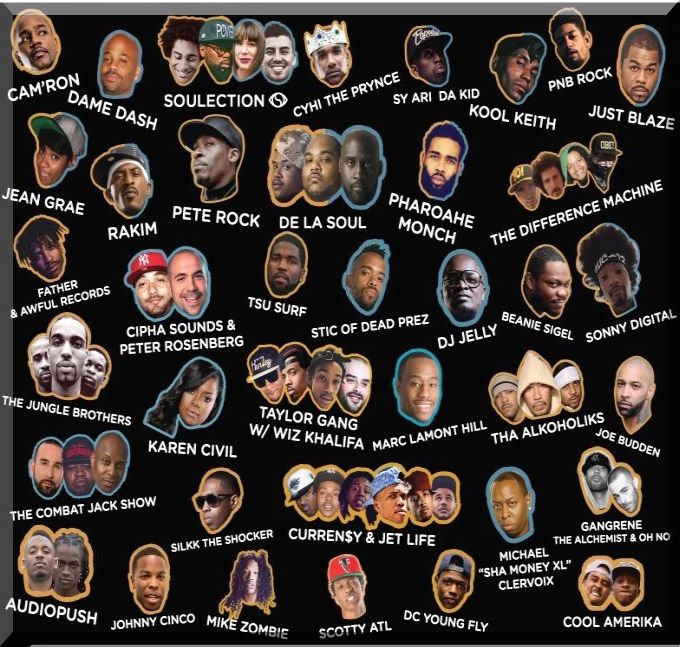 Second of three installments of A3C artists and speakers to participate at this years events, include: Taylor Gang & Wiz Khalifa, Pete Rock, Jungle Brothers, Beanie Sigel, Peter Rosenberg & Cipha Sounds, Joe Budden, Awful Records & Father, Marc Lamont Hill, Karen Civil, Combat Jack, Sonny Digital, Sha Money XL, Tha Alkaholiks, Scotty ATL, Johnny Cinco, Tsu Surf, Silkk The Shocker, Mike Zombie, DC Young Fly & Stic of Dead Prez.

2015 A3C will take place October 7th-11th, 2015, in Atlanta's eclectic Old 4th Ward, along Edgewood Ave, and East Atlanta Village. A3C has moved the Conference Center to The Loudermilk Center, and the host hotel to the Sheraton Atlanta Hotel.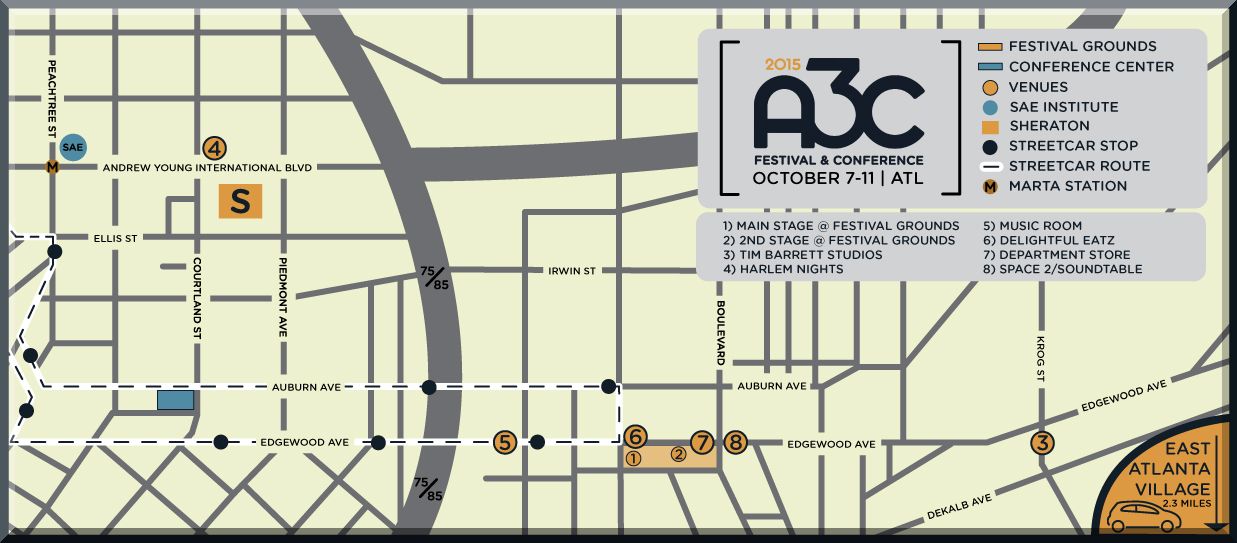 The A3C Pro-Audio Conference Center will remain at the SAE Institute of Atlanta, and A3C has partnered with the Atlanta Streetcars to move A3C attendees around Atlanta for free.
A3C artist submissions are open through September 19th. Submissions are free through September 1st for artists with a Sonicbids account. To date YCDon, Buggs Tha Rocka, Shope', Young Chizz, Triune and nearly a dozen other artists have been selected to perform at this years A3C Festival & Conference. Past Sonicbids selections include: Young Thug, Trinidad James, Rhymefest, Ca$h Out, Que, Black Sheep, Tanya Morgan, CJ Fly of Pro Era, & Propaganda.
Submit here: http://www.sonicbids.com/find-gigs/2015-a3c-hip-hop-festival
The A3C Festival features 500+ performances over 5 days, while the Hip-Hop community ascends on Atlanta to experience, celebrate and discover the most legendary, talented and promising artists from across the US, and abroad. Artists are continuously added to A3C Festival line-up and every night features surprise performances. In other words, the A3C Festival is an amazing Hip-Hop experience like no other. "I love the team at A3C for giving artists a platform to be heard and build their craft!", states Sean "Diddy" Combs."
The A3C Conference is an incomparable platform for the Hip-Hop industry, academics, creatives, companies and organizations to connect, learn and build. A3C Conference includes keynote speakers, panels, workshops, demos, interviews, screenings, mixers and exhibits featuring over 150 Hip-Hop industry experts, academics and influencers "I really love what this conference represents. I love that most of the people that you see are business minded, it's inspiring." states Bun B.
2015 A3C Festival & Conference presenting partners currently include: MyMixtapez, Monster Energy, SAE Institute of Atlanta, Morehouse College, Mail Chimp, Tunecore and Sonicdbids.
A3C is very proud to announce the launch of The Formula: An Academic Symposium with Morehouse College at the 11th annual A3C Festival & Conference. The Formula will take place at the A3C Conference Center on Thursday, October 9th and is accessible with a VIP, All-Access, or Conference Pass.
LABELS & ARTISTS….NEED PROMOTION
RAWDOGGTV (PR & Global Publicity) Viral Marketing | APP Promo
Contact: ☎ 305-490-2182 gerald@rawdoggtv.com
For more information about the A3C Festival & Conference, taking place in Atlanta on October 7th-11th, 2015, visit
www.a3cfestival.com
. Follow A3C on Facebook.com/A3Cfestival and Twitter – @A3C and Instagram – @A3CFestival and the hashtag is #A3C2015.