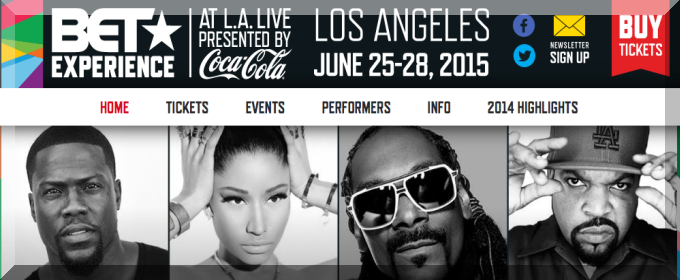 GOLD, DIAMOND AND PLATINUM VIP PACKAGE TICKETS ON SALE NOW @ BETExperience.com
BET AWARDS TICKETS 2015 EXPERIENCE LA LIVE
Tickets for the BET Experience presented by Coca-Cola at L.A. LIVE are on sale now. Single day STAPLES Center show tickets are priced as low as $59.50 while 3-day STAPLES Center concert ticket packages start at $169.50. For fans looking to roll like a VIP throughout the biggest summer weekend in entertainment – the VIP packages are the only way to purchase "BET AWARDS" tickets, get great seats to the STAPLES Center shows, and exclusive access your friends will envy. Quantities are limited, so order now at http://www.betexperience.com
Follow BET Experience on Twitter @betexperience for the latest and greatest and join the conversation by using #BETExperience. Feel free to also check us out online at http://www.betexperience.com
BET EXPERIENCE AT L.A. LIVE
BET Networks, an entertainment powerhouse, and AEG, one of the leading entertainment companies in the world and developer/ operator of L.A. LIVE have teamed up once again to create the BET EXPERIENCE AT L.A. LIVE (BETX), June 27 – 29, 2014. This three-day festival will be filled with music and comedy concerts taking place at Club Nokia and STAPLES Center; "106 & PARK" tapings in Nokia Plaza L.A. LIVE, BET Fan Fest at the Los Angeles Convention Center, seminars, celebrity basketball games, seminars and various celebrity meet & greets, GRAMMY® Museum exhibits and other special appearances. With the weekend being capped off with the "BET Awards" on Sunday, June 29, 2014 at Nokia Theatre L.A. Live.
ABOUT "BET AWARDS"

The BET AWARDS is one of the most watched award shows on cable television according to the Nielsen Company. The BET AWARDS franchise remains as the #1 program in cable TV history among African-Americans, and it is BET's #1 telecast every year. It recognizes the triumphs and successes of artists, entertainers, and athletes in a variety of categories.