12th ANNUAL MUSICARES MAP FUND TRIBUTE CONCERT TO HONOR GRAMMY WINNER SMOKEY ROBINSON
12TH ANNUAL MUSICARES MAP FUND® TRIBUTE CONCERT TO HONOR GRAMMY® WINNER
SMOKEY ROBINSON ON MAY 19 TO RAISE FUNDS FOR MUSICARES®' ADDICTION RECOVERY SERVICES
MusiCares Tribute Concert To Honor Smokey Robinson
Performers Include El DeBarge, Kenny "Babyface" Edmonds, Cee Lo Green, And Kem
Cedric The Entertainer To Host Tribute Event
The 12th annual MusiCares MAP Fund® tribute concert will honor legendary GRAMMY®-winning singer/songwriter Smokey Robinson at the Novo (formally Club Nokia) in Los Angeles on May 19. Robinson will receive the Stevie Ray Vaughan Award in recognition of his dedication and support of the MusiCares MAP Fund as well as his commitment to helping others with the addiction recovery process.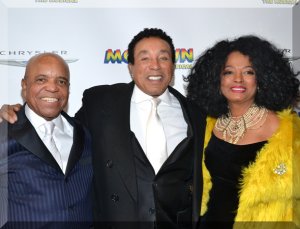 All proceeds will benefit the MusiCares MAP Fund, which provides members of the music community access to addiction recovery treatment regardless of their financial situation. Performers include GRAMMY-nominated artists El DeBarge and Kem, and multi-GRAMMY winners Kenny "Babyface" Edmonds and Cee Lo Green. Robinson will give a closing performance with his touring band. Actor and comedian Cedric the Entertainer will host the event. Additional performers will be announced.
"During the course of his 60-year career, Smokey's stellar repertoire of extraordinary songwriting combined with his unique voice and dynamic performances continues to thrill sold-out audiences and fans worldwide," said Neil Portnow, President/CEO of MusiCares® and The Recording Academy®.
"He is also a passionate advocate for the MusiCares MAP Fund, and our work to help members of the music industry facing addiction. It is a genuine pleasure to honor a true musical icon and a courageous supporter of the recovery community."
"I've been blessed to have a truly rewarding career in the music industry and I've worn many hats, from artist and songwriter to producer and executive," said Robinson. "I also have experienced firsthand the ravages of addiction, and the role I'm most proud to be associated with is 'sober.' That's why I'm so honored to receive this MusiCares MAP Fund tribute, because this charity saves lives day after day, all year long."
"Smokey's artistry and craft are known worldwide," said MusiCares Chair Bill Silva. "Our annual MusiCares MAP Fund tribute will shine the light on his contributions as a standard-bearer for recovery."
Celebrated producer, songwriter and founder of Motown Records Berry Gordy will serve as the Honorary Tribute Chair for the event. Noted entertainment attorney John Branca, who was recently appointed to serve as the MusiCares Honorary Board Chair, will be in attendance. Branca was Co-Chair of the Executive Committee for the MusiCares 20th Anniversary Campaign, which raised a total of $12.5 million.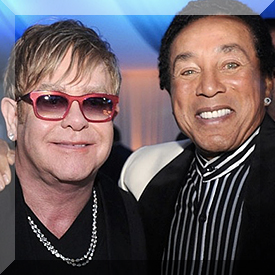 This special tribute dinner and concert offers Living Room Floor Sets that seat 10 for $12,500, Individual Floor Seats for $1,250 per person, Cabaret-Style Floor Seating with tables of four for $1,000, and Individual Cabaret Floor Seats for $250. Contact Wynnie Wynn for ticket information at 310.392.3777 or wynniew@grammy.com. VIP Balcony Seats for $95 per person and General Admission Balcony Seats for $65 per person are available exclusively through AXS via www.axs.com.
An acclaimed singer/songwriter, Robinson's career spans more than six decades of hits. Born and raised in Detroit, he founded the Miracles while still in high school. The Miracles were Berry Gordy's first vocal group, and Robinson was there from the very beginning as Gordy started the Motown Records dynasty.
Their single of Robinson's "Shop Around," which was co-written by Robinson and Gordy, became Motown's first No. 1 hit on the R&B Singles chart. In the years following, Robinson continued to pen hits for the group, including "You've Really Got A Hold On Me," "Ooo Baby Baby," "The Tracks Of My Tears," "Going To A Go-Go," "More Love," "The Tears Of A Clown" (co-written with Hank Crosby and Stevie Wonder), and "I Second That Emotion."
The Miracles dominated the R&B scene throughout the 1960s and early 1970s. Robinson became vice president of Motown Records, serving as an in-house producer, talent scout and songwriter. In addition to writing hits for the Miracles, he wrote and produced hits for other Motown greats, including Marvin Gaye, Brenda Holloway, the Temptations, Mary Wells, and others.
Robinson has received numerous awards, including the GRAMMY Legend Award, The Recording Academy Lifetime Achievement Award, four recordings inducted into the GRAMMY Hall Of Fame®, an honorary doctorate from Howard University, Kennedy Center Honors, and the National Medal of Arts Award from the President of the United States.
He has also been inducted into the Rock and Roll Hall of Fame and the Songwriters Hall of Fame. He remained vice president of Motown Records until the sale of the company, shaping the label's success with his friend and mentor Gordy. Following his tenure at Motown, Robinson has continued his impressive touring career and released several successful solo albums.
The MusiCares Foundation offers programs and services to members of the music community, including emergency financial assistance for basic living expenses such as rent, utilities, and car payments; medical expenses including doctor, dentist and hospital bills; psychotherapy; and treatment for HIV/AIDS, Parkinson's disease, Alzheimer's disease, hepatitis C, and other critical illnesses. MusiCares offers nationwide educational workshops covering a variety of subjects, including financial, legal, medical, and substance abuse issues, and programs in collaboration with health care professionals that provide services such as flu shots, hearing tests and medical/dental screenings.
The MusiCares MAP Fund provides access to addiction recovery treatment and sober living resources for members of the music community. Staffed by qualified chemical dependency and intervention specialists, MusiCares offers Safe Harbor Room® support, sponsored in part by the Bohemian Foundation and RBC Capital Markets, to provide a network to those in recovery while they are participating in the production of televised music shows and other major music events.
MusiCares holds weekly addiction support groups for people to discuss how to best cope with the issues surrounding the recovery process. The MusiCares Sober Touring Network is a database of individuals across the United States who can take music people to recovery support meetings while on the road.
Established in 1989 by The Recording Academy, MusiCares provides a safety net of critical assistance for music people in times of need. MusiCares' services and resources cover a wide range of financial, medical and personal emergencies, and each case is treated with integrity and confidentiality. MusiCares also focuses the resources and attention of the music industry on human service issues that directly impact the health and welfare of the music community.
For more information, please visit www.musicares.org. For breaking news and exclusive content, please "like" MusiCares on Facebook, and follow @MusiCares on Twitter and Instagram.
The life and times of the late Adam "DJ AM" Goldstein represent an all too brief story of triumph, tragedy and inspiration. Thanks to the vision and generosity of his mother, Andrea Gross, and his family and colleagues, the MusiCares MAP Fund has over the years benefitted from a Memorial Fund created in Goldstein's name. As a means to further his legacy, the documentary As I AM: The Life & Times Of DJ AM, was released worldwide in 2015, with a portion of the net proceeds from the film benefiting MusiCares.
MusiCares Tribute Concert To Honor Smokey Robinson